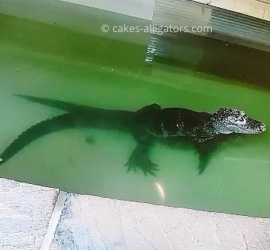 It's finally happened!! It's what we've been waiting for and we are absolutely over the moon.
Back at the beginning of May we caught sight of two of our Chinese Alligators mating, and now we have our website we are pleased to share this brilliant news with you all here.
You can see the footage we've managed to get of the breeding over in the video gallery - once at the Gallery, open the gallery called Breeding May 2018.
Do we have a pregnant Chinese Alligator?? Will she soon start building her nest?? Only time will tell, so stay tuned, right here in the Latest News section of our website to be the first to find out..
We just cannot wait to see how this develops from here.